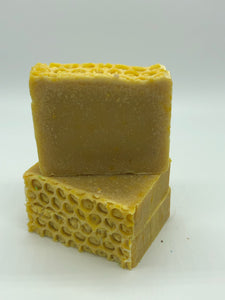 Our handmade Honey Goats Milk Soap is one of our natural range of soaps. Made with my luxurious soap recipe, containing raw Honey.
The soap is loving made with fresh real goat milk - straight from our goat dairy.
Warm, sweet and delicious with base notes of spun sugar and coumarin.
Ingredients - Made with fresh Goat Milk, Coconut Oil, olive oil, rice bran oil, sodium hydroxide, raw honey. fragrance oil, soap safe colour
Net Weight: Approx 130g