*Buy 4 or more soaps & get a discount *
Select any 4 single soap and get 10% discount on your order.
(discount applied at checkout)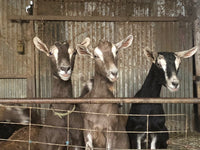 Thanks for visiting!
Little White Goat Soap is an amazing alternative to the mass produced soaps available on the shelves in Australian stores. 
I learnt to make goat soap from Granny.  Her Goat Dairy  has over 80 dairy goats and she machine milks them twice a day, so my products are made with fresh milk each day. All her girls are named and come to be milked when called!
We specialise in products made with care, love and our own hands.
Please note, as our soaps are all handmade each batch is unique and will not necessarily match the picture exactly.
Featured collection -Christmas