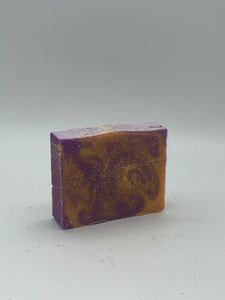 Our handmade Goats Milk Soap is one of our fragrance range of soaps. Made with my luxurious soap recipe, containing shea butter.
The soap is loving made with fresh real goat milk - straight from our goat dairy.

A refreshing tropical scent, Passionfruit has a lovely sweet smell, reminiscent of a summery cocktail. Its intoxicating combination of grapefruit, orange zest and peach make it simply irresistible.

Ingredients - 

Made with fresh Goat Milk, 
Coconut Oil, olive oil, rice bran 
oil, sodium hydroxide, shea butter, 
Fragrance oil, soap safe colour 
Net Weight: Approx 120g